Our Trustees Annual Report reflects on the people and research we have supported over the past 10 years, as well as the highlights of 2021-22.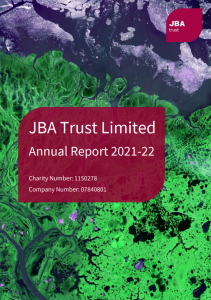 In September 2022, we took the opportunity to celebrate our first 10 years with some of our project partners and share the highlights of our support for research, education and engagement.
Over our first decade, we have helped 127 students with funding for postgraduate training and research, supported over 300 engagement events and worked with 22 universities and nine NGOs.
We have worked with partners to encourage STEM learning and inspire young people to explore opportunities and careers in water and environmental engineering, sustainability and resilience.  Our digital learning resources have been viewed more than 35 million times by people around the world.
Our support for collaborative research has also helped to deliver 39 peer-reviewed scientific publications and numerous presentations at technical scientific and industry conferences.
Rob Lamb, Director of the JBA Trust, commented,
"Our contributions to public benefit come from the willingness of people to share their knowledge and expertise, through our collaborations with partners and the JBA Group of companies. We are, as ever, grateful for this support and look forward to continuing to work with others to help make our society more resilient and sustainable".