Rochdale Science Extravaganza took place on Sunday 19th March. With a theme of 'Climate Change and Sustainability', the free event provided a wide range of science, technology, engineering, art and maths (STEAM) activities for the whole community.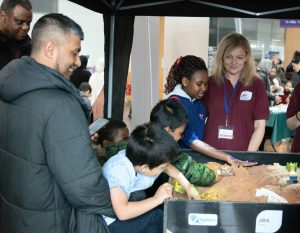 Taking place during British Science Week, the event brought together scientists, researchers, artists and others with an aim of inspiring and encouraging people to explore science and to consider their part in creating a sustainable future.
Visitors used the JBA Trust augmented reality sandbox to explore flood risk and to see how climate change might affect flooding in future.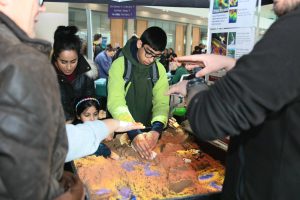 Sue Jones, volunteering on behalf of JBA Trust, commented:
"It was a fabulous day demonstrating the augmented reality sandbox. Visitors were really engaged and enthusiastic, the sandbox is a very interactive engagement tool."
Rochdale Science Extravaganza is organised by the Rochdale Science Initiative C.I.C in collaboration with Bangladesh Association and Community Project (BACP) in association with a network of partners. The 2023 event took place at Number One Riverside Council Offices in Rochdale.