The JBA Trust Team
Rob Lamb, Director
Rob has been working for over 20 years in academic and commercial research and development, first at the Centre for Ecology and Hydrology in Wallingford, and since 2002 at JBA Consulting. A hydrologist and numerical modeller by training, he specialises in flood risk science. Rob has published work in numerous journals and is co-author of two text books. He directs the JBA Trust's programme of research, maintaining an active interest in research on risk analysis, climate change and links between engineering and environmental science.
Since 2013 Rob has been an Honorary Professor at Lancaster University's Lancaster Environment Centre. In 2016 he joined the government's scientific advisory group on flooding.
Alex Scott, Programme Manager
Alex manages the JBA Trust's research programme, facilitating collaboration between academic and industrial partners, coordinating outreach activities and managing the operational activities and governance of the charity.
Alex has over 17 years' experience in the water and environment sector, starting at Yorkshire Water and then joining JBA Trust in 2013.  She has worked across a wide variety of disciplines including water company asset management, strategic investment planning, environmental risk management, research and innovation, stakeholder engagement and flood risk management.

Adam Odell, Engagement and Communication Officer
Adam supports the JBA Trust's engagement and outreach activities, in particular the use of the physical models to support STEM education.
Adam studied Environmental Science at Lancaster University before doing a Masters in River Basin Management with GIS at the University of Leeds. Before joining JBA, he worked at Natural England creating digital communication resources to help local environment groups secure funding. Adam is interested in Natural Flood Management (NFM) and also undertakes hydrological modelling, flood risk mapping and programming to analyse and visualise data.
Jacob Embery, Asset Owner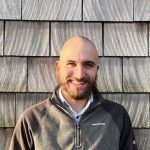 Jacob manages and maintains all of JBA Trust's physical models and equipment, including our river flumes, wave tanks and interactive visualisation tools.
Jacob studied Geology with Palaeobiology at the University of Leicester followed by an MSc in Geographic Information Science. Before joining JBA, he worked as a geo-environmental consultant specialising in contaminated land surveying.  Jacob now specialises in mapping, spatial data analysis and hydrological modelling.