On Tuesday 1st October, JBA Trust was pleased to support an event for Coniston Cold Young Farmers, near Settle. Many of the young farmer members are increasingly interested in the environmental impact of farming and its effect on hydrology and flood management.
An overview of natural flood management was provided, along with demonstrations of two physical models. These demonstrations enabled participants to explore and gain a greater understanding of catchment management issues and the role that natural flood management can play.
The JBA Trust Augmented Reality (AR) Sandbox was used to demonstrate and explore general concepts of how topography and land use can affect the movement of water in a catchment.
The interactive iCaptureFlood table enabled conversations to be focused on a specific geographical location and showed how relevant local information can be displayed. The demonstration showed how the views and knowledge of local people who know most about their local area can be digitally captured and then fed back in to improve flood risk models.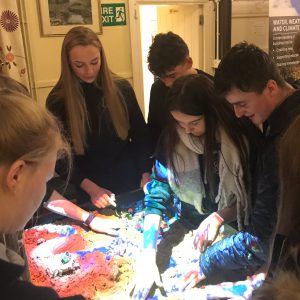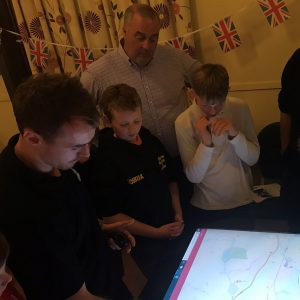 Victoria Coates from JBA Consulting commented:
"It's really interesting to meet local farmers who manage the land and to discuss natural flood management with them. The sandbox and iCaptureFlood table are really valuable tools when explaining how water moves within a catchment."
Ryan Jennings from JBA Consulting added:
"The Young Farmers were very keen to learn about flood risk management, they loved the interactive iCaptureFlood table and AR sandbox. Some of the children are planning to use the JBA Trust website to help with their geography homework."
Our thanks go to our JBA Consulting colleagues who demonstrated the models. To view details of nature-based flood risk management projects in the UK, see our new interactive mapping website.