We are delighted to have received a brand new flow meter donated by the Canal & River Trust Water Management Team, to help support our education and training activities.
The flow meter was surplus to the Canal & River Trust's requirements and they invited UK-based charitable or educational organisations to apply to make use of the kit.
The 'Braystoke model 001' Flowmeter Wading Set, manufactured by Valeport, is an open channel large impellor flowmeter set and provides a cost effective and reliable method of monitoring flow in a variety of environments, including salt, fresh and effluent water, from shallow streams to tidal waterways.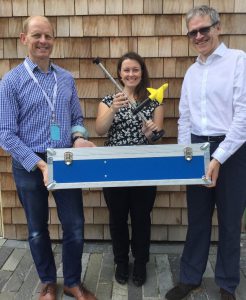 Photo: Adam Comerford presents the flow meter to Alex Scott and Rob Lamb
Adam Comerford, National Hydrology Manager for the Canal & River Trust, delivered the new field kit to our Broughton Park office in Skipton where it will be based alongside our other physical models.
Adam explained, "The Canal & River Trust is delighted that this instrument will be put to good use by the JBA Trust in their excellent work with other organisations, helping to promote and improve understanding of hydrological processes"
Rob Lamb, Director of JBA Trust commented, "We are very grateful to the Canal & River Trust for donating this equipment to support our education and outreach activities, and are looking forward to making it available to support research and monitoring projects as well as supporting training on flow gauging techniques".
If you think the flow meter could be useful for your work with students, professional groups or communities then please contact us to discuss how we could share this equipment and any of our other physical models.