We have developed a water safety demonstration flume in partnership with North Yorkshire Fire and Rescue Service and Hydrotec Consultants.
North Yorkshire Public Safety Officers will use the new flume to help raise water safety awareness with a wide range of audiences, including school pupils and communities.
The flume includes a range of natural and man made river features including a waterfall, stepping stones, weirs, bridges, culverts and culvert screens. By adding these features to the flume, it's possible to see how they affect the flow of water and the associated safety hazards.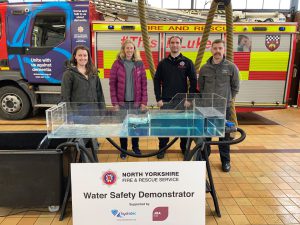 We were very pleased to deliver the flume to Nick Gregory and Robbie Kirkbride, North Yorkshire Public Safety Officers, on Thursday 3rd February at Skipton Fire Station. We look forward to creating a water safety video together in Spring 2022.
For further information about the water safety flume, please contact us.