We were pleased to support visits to two secondary schools in the North West of England in July, exploring career opportunities in the flood risk management industry.
Emily Christopherson and Maria Botterill, Flood Resilience Analysts at JBA Consulting, volunteered to visit St Patrick's RC High School in Eccles and The Grange Academy in Runcorn on behalf of JBA Trust.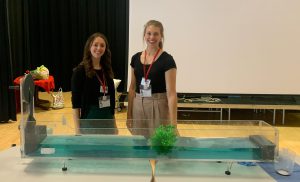 They talked to students about their career journeys and the types of careers that are available as a result of studying geography and environmental science. Interactive demonstrations of the coastal wave tank were also provided to show flood risk management in action.
The sessions provided an overview of the various requirements for those interested in a career in flood risk management, including ideas of subjects to study, transferrable skills, work experience and possible career pathways, including further education and apprenticeships.
Emily commented "I really enjoyed visiting St Patricks RC High School and The Grange Academy. The students were really enthusiastic to get involved with the wave tank demonstrations and this enhanced their learning about coastal defences. It was great to be able to share my experience of how I have used geography in my career so far and to help inspire students by highlighting the types of careers that are available as a result of studying geography."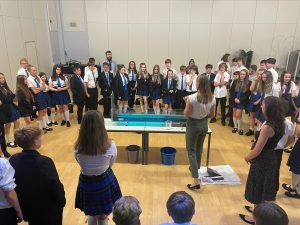 Maria added "Visiting both schools was a really enjoyable and rewarding experience. It was great to have the opportunity to share my education and career experience to help inspire students that are working towards their own careers. It was fantastic to see the students getting involved with the wave tank demonstrations and engaging with all the discussion points."