Colleagues from JBA Consulting took part in the Tadcaster Grammar School careers fair on Monday 18th July, talking to pupils about careers in engineering and demonstrating the JBA Trust mini flume.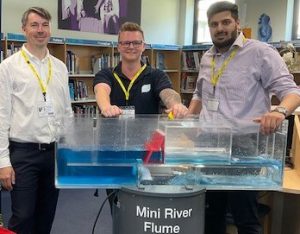 Bob Olafsson commented "We had a great time engaging with students, they particularly enjoyed seeing the flume and how the flow of water is affected by different structures.
Several of the students expressed an interest in civil engineering as a profession and it was rewarding to speak to them about the work that we do and to let them know about the different routes available to them to become an engineer."
Hassan Rauf added "It's enjoyable to talk to students to increase their awareness about civil engineering and the construction industry, whilst sharing my knowledge and experiences".
Please visit out YouTube channel to view a collection of short careers videos.