We were pleased to support learning about rivers at Great Harwood St John's CE Primary School in Lancashire on Tuesday 12th July, delivering mini river flume demonstrations to over 50 pupils in Years 4, 5 and 6.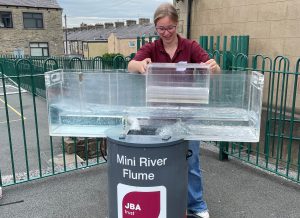 The mini flume demonstrations explored how the speed and height of water in a river can be affected by the presence of different engineered structures, including bridges and weirs.
We experimented to see what might happen in flood conditions and considered the impact that flooding can have on both people and the environment.