JBA Trust supported the Key Stage 2 geography curriculum at Cullingworth Village Primary School near Keighley on Thursday 30th January.
To help pupils learn about rivers in an engaging way, the school organised a full day of activities for Year 5 and 6 pupils. In the morning, teachers took pupils to visit their local stream to see real-life examples of river features, as well as to learn about velocity, depth, flooding and river structures.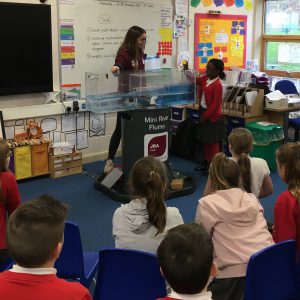 Following their trip, we provided demonstrations of the mini flume to show how water behaves in a simple river channel. We particularly looked at the height and speed of the water when bridges, weirs and culverts are added and thought about how these structures can affect flood risk.
To help reinforce learning, the flume demonstrations were followed by activities from JBA Trust's new suite of learning resources.