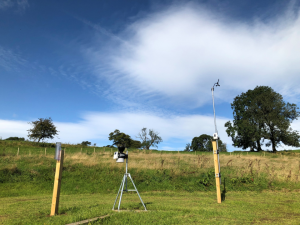 We have installed an automatic weather station at our Broughton Park office, near Skipton in North Yorkshire. Data recorded at this station is freely available for use by schools, universities and communities.
The wireless Davis Vantage Pro 2 station measures air temperature, humidity, wind speed and direction, rainfall and pressure.
In addition, a manual rain gauge is read at 09:00 GMT each day for calibration purposes.
Real time weather information can be viewed on the Met Office Weather Observation Website (WOW) by searching for 'JBA Trust' or by visiting @JBATrustWeather on Twitter.
'The weather station is a valuable addition to JBA Trust's suite of physical models. Making the data freely available allows it to be used for a wide range of educational activities including weather reporting & forecasting, meteorological measurements and statistical analysis," commented Rob Lamb, Managing Director of JBA Trust.
You can find out more about our weather station here.  If you are interested in using our weather data for educational or research purposes, please visit the 'JBA Trust' site on WOW or contact us for further details.