In mid November we supported two events focusing on careers in science, technology, engineering and maths (STEM).
On Wednesday 10th November, Andrew Fielding and Laura Thompson from JBA Consulting demonstrated the JBA Trust wave tank to students attending the STEM and Volunteering Fair at Edge Hill University.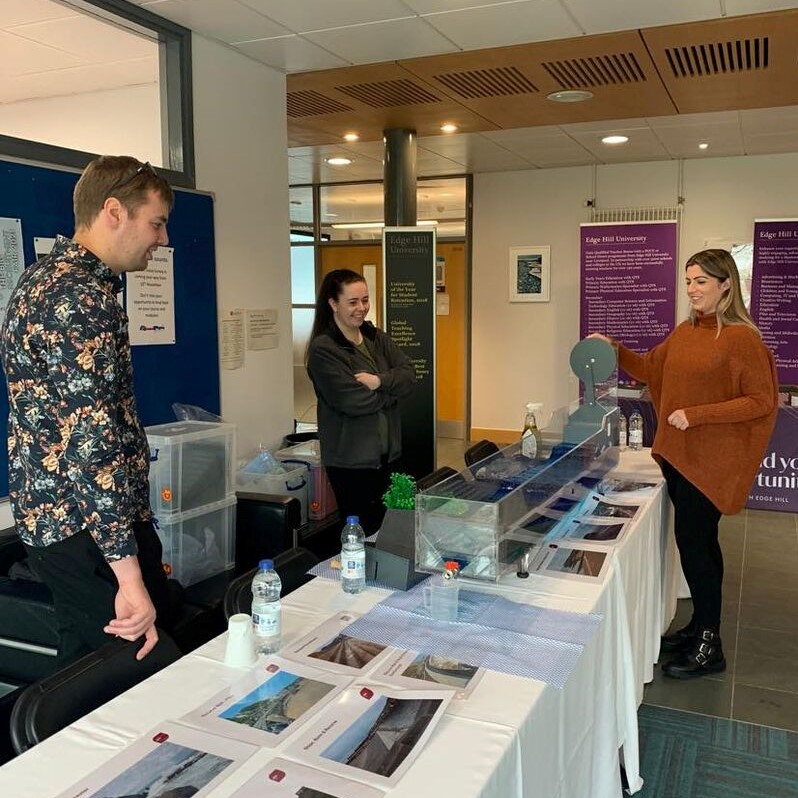 Andrew and Laura talked to students about their roles and the types of career opportunities that are available as a result of studying geography and STEM subjects.
Andrew commented "It was a pleasure to attend the Edge Hill University STEM and Volunteering Fair. It's great to be able to get back out and engage with students after what's been a difficult period for us all through COVID. As per usual, the JBA Trust wave tank was the star of the show, mangroves are surprisingly effective at breaking up waves".
On Thursday 11th November, Kirstin Davenport from JBA Consulting took part in an online 'Maths Careers in the Curriculum' session for maths teachers. The event was organised by the Transpennine STEM Ambassador Hub and took place during Maths Week England (8th to 12th November 2021). It aimed to showcase all the interesting and varied jobs that use maths and why the subject is so important in the world of work.
Kirstin talked to maths teachers about how she uses maths in her work as a coastal engineer. She commented "The maths STEM hub event brought together multiple ambassadors across different STEM fields to discuss their use of maths and mathematic principles within their work. The idea behind it being to introduce primary and secondary school teachers to real-world applications and maths skills and hopefully be able to answer the question of why Pythagoras' Theorem is applicable to the real world! I discussed my work as a Coastal Engineer for JBA Consulting and the work the JBA Trust do for water management training and education in schools and communities. It was really interesting to listen to what the other ambassadors do and how applicable maths really is to the wider world, ranging from the development of cancer treatment to data statistics, BBC sport analysis and waste management – maths really is involved in everything!".