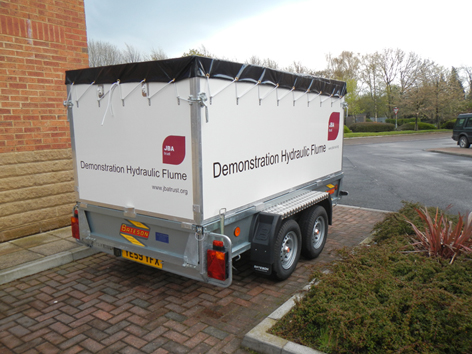 JBA's hydraulic theory training course has included, for a number of years now, a wonderful teaching aid in the form of a demonstration hydraulic flume. It is an excellent piece of equipment but is big, very heavy and needs to be filled with gallons of water in order to work.  Until recently both housing and transporting the flume have been something of a problem.
This has all changed now though, with the arrival of the trailer! This purpose built trailer provides a home and a transport facility. The flume is permanently mounted on the trailer and is simple to use in demonstrations. The end and side panels detach and can be reassembled to produce display boards.
Look out for the trailer as you travel around the country. With the JBA Trust logo emblazoned on its side panels, it's easy to spot. You might just pass it on the motorway.