JBA Trust were pleased to support Environment Agency community engagement activities at Manchester Science Festival in October 2022.
Aimee Pilling, Civil Engineering Apprentice at JBA Consulting, volunteered to attend the Festival on behalf of JBA Trust and writes about her experience below.
I was lucky enough to have the opportunity to represent JBA Trust, working alongside the Environment Agency, at Manchester Science Festival. The event was held over two days on Tuesday 25th and Thursday 27th October at the Manchester Central Library and was attended by over 1,400 visitors.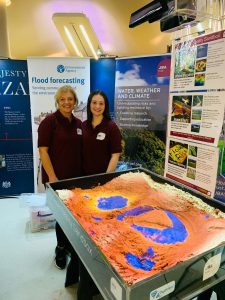 My colleague and I attended the event on the Thursday to demonstrate the Augmented Reality (AR) Sandbox. The community event was free to attend and aimed to highlight the potential impacts associated with climate change and solutions for a better world – the sandbox was perfect to demonstrate this. The visitors were very eager to get their hands stuck in – literally! Children and adults alike really enjoyed being able to shape the sand to create their own unique water courses and the keen 'modellers' made it rain by holding their hand over the part of the course which they wanted to flood.
This event really helped me to realise how important it is to provide opportunities for people to learn about the world that they live in, as well as being able to engage with the community which was really rewarding.