Our augmented reality (AR) sandbox was in action at Kendal Mountain Festival on 18 and 19 November.
Situated in the Plas Y Brenin tipi at Festival Basecamp in Abbot Hall Park, visitors experimented with the sandbox, moving sand to create different landscapes, providing a visual and interactive demonstration of contours, terrain, land use and flooding.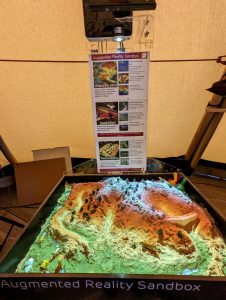 Andy Evans, volunteering on behalf of JBA Trust, commented:
"We had an enjoyable day in the amazing Plas y Brenin tent, demonstrating the sandbox as well as chatting maps and geography during the Ordnance Survey 'Mappy Hour'. The sandbox proved very popular, both as an exciting way of seeing the link between landscapes and maps, and as a tool for understanding how we can work with nature to better manage floods – a theme obviously close to many mountaineers' hearts."
Will Clayden, volunteering on behalf of JBA Trust, added:
"I really enjoyed the opportunity to talk to visitors about how flood risks are managed. It was a busy day explaining the differences between modern and more traditional strategies. The sandbox got all ages engaged, making and flooding their own landscapes."
Thank you very much to the team of volunteers from JBA Consulting for demonstrating the sandbox and to Plas y Brenin and Ordnance Survey for hosting us.