Blog: Work experience with JBA Trust, Kieran Murnane

Kieran Murnane recently joined the JBA Trust for a week to find out more about working in the water and environment sector.  He talks about his experience of physical models of rivers and coasts, visiting research catchments and using flood modelling software.
"I am currently a Geography BSc student, with a particular interest in water environments, and have just finished my first year of studying at the University of Manchester.  Work experience is a key aspect of learning and something I know that employers hold in high regard so I was keen to find a short placement in the environmental sector.
I approached JBA as they work in a wide variety of areas that I'm in interested in pursuing as a career and it seemed like there were lots of opportunities to get some hands-on experience during the placement.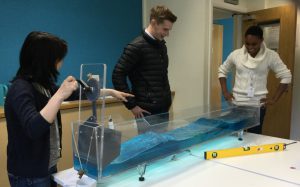 My week-long placement was based with the JBA Trust, and the different activities allowed me to learn about the education and research activities carried out by the Trust as well as the role of the various companies in the JBA Group.
During the week I visited a river catchment that is being used for PhD research into Natural Flood Management (NFM) measures, took part in a training day, attended team meetings and discovered the industry helps to predict and manage flooding.
This experience has given me a really good outlook on the important part that consultancies play in this sector, and has been a very valuable experience. Thank you so much to Alex and the rest of the team at JBA who have made my week both enjoyable and productive. Hopefully I'll be back soon!"
Favourite bit: Using the physical models on the training day, because of how interactive and useful they are for simply representing basic processes.
Most interesting bit: Learning about how computer flood models work and how they can be integrated with GIS to show flood risk.
Most surprising bit: Seeing how lovely the setting of the Broughton Hall offices is!