Alex Scott from JBA Trust was invited to judge CIWEM's 2013 Tomorrow's Water final, hosted at the WaterAid offices in London on 24 June 2013.
This national water and environment competition saw the country's most talented groups of students demonstrate their ability to apply their science, technology, engineering and mathematical skills to solving water and environmental challenges.
Elena Stronach, Leah Edwards and Astrid Blee from Rugby High School, emerged as the winners for their study measuring the hydrodynamic load on wave energy structures.  On winning Tomorrow's Water, the Rugby High School team commented:
"Participating in Tomorrow's Water has been absolutely amazing – to be able to discuss our project and all its implications with such a distinguished group of people, and to be in a room with all the competitors, was just incredible.  We've had a fantastic time – not just today, but throughout the whole project – and we can't wait to go to Stockholm!"
The students will travel to Sweden to represent the UK at the Stockholm Junior Water Prize during World Water Week, held 1-6 September 2013
Click here to see all the finalists.
Patrick Holt of the Long Eaton School, received the Highly Commended Award for his fully automatic water pump model, developed to provide a local, accessible source of clean water for populations in less economically developed countries.
All of the judges were very impressed by the quality of the projects and the enthusiasm of the students – well done to everyone who took part!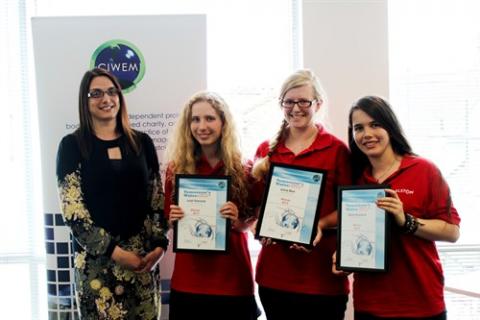 Picture (L to R): Maria Ingles, Water Aid Education Officer, and the Rugby High School team