In partnership with the Transpennine STEM Ambassador Hub we've been supporting Carlton Keighley secondary school, providing young people with experience of Science, Technology, Engineering and Maths (STEM) in relation to sustainability and climate change and inspiring pupils to consider STEM careers.
We delivered seven engagement sessions focusing on environmental risks to 150 Year 8 students. In addition, we attended the Carlton Keighley science fair for local primary schools, supporting a group of Year 8 students who demonstrated the JBA Trust wave tank to visitors.
Our team of eight volunteers from JBA Consulting and JBA Risk Management were integral to the success of the project. The volunteers developed session content and showcased a vast range of skills and careers including flood risk management, data science, coastal engineering, software development, risk management, climate science, sustainability, engineering and hydraulic modelling.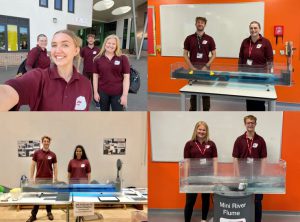 The volunteers signed up as STEM Ambassadors with STEM Learning as part of the project and received 'Engaging Young People with STEM' training, delivered by the Science Museum Group Academy.
Ben Hall, Coastal Modeller at JBA Consulting commented "Taking part in the STEM Ambassador project has been extremely rewarding. I wanted to show young people that STEM is for anyone that has a passion for a subject. I enjoyed helping students learn about my field of work, as well as explaining complex science concepts in more easily understood ways."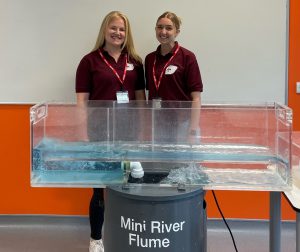 "Demonstrating the mini river flume provided a fantastic opportunity to work with new colleagues and students in the local community. The students were engaged in the sessions and enjoyed exploring river engineering strategies, the different risks associated with rivers and flooding, and how these can be applied on both a local and global scale." added Alice Robinson, Geographical Information System Analyst at JBA Risk Management.
Georgia Pennington, Head of Science at Carlton Keighley secondary school commented "We have all enjoyed and learned so much from the sessions and there has been a real buzz with Year 8. A lot of the students have become so engaged in the topics and have carried on the conversations in other lessons so thank you for the inspiration. We particularly enjoyed the careers aspect as it has provided students with a wider vision."
Thank you very much to:
– the Transpennine STEM Ambassador Hub for coordinating the project
– Georgia Pennington and all the staff and students at Carlton Keighley for welcoming us to their school
– all the volunteers for taking part in the project