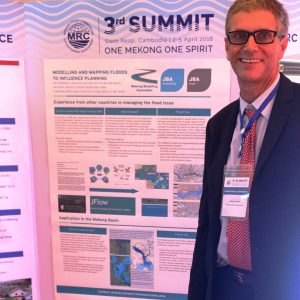 Dr Tony Green of Mekong Modelling Associates presented his poster and acknowledged our work at the Mekong River Commission 3rd Summit in Siem Reap, Cambodia.
The Mekong River Commission (MRC) is an intergovernmental organisation that works with the governments of Cambodia, Lao PDR, Thailand and Viet Nam to manage the shared water and related resources of the Mekong River for the sustainable development of the Mekong region.
The poster focused on how UK experiences in modelling and mapping floods to influence planning can be applied to the Mekong Basin.   Opportunities to influence planning exist however studies have shown that a strategic approach is needed urgently to address challenges such as climate change adaptation where a larger scale view of flooding is needed to avoid cumulative impacts elsewhere.
We hope that our work supporting flood risk modelling research can help offer some useful perspectives from the UK for flood management in South East Asia.