Our mini hydraulic river flume was in action at a careers fair for Year 10 to 13 pupils at All Saints Roman Catholic Secondary School in York on Monday 13th June.
Colleagues from JBA Consulting attended the fair to talk to pupils about the wide range of careers available in the engineering and environmental sectors, as well as possible routes into these professions.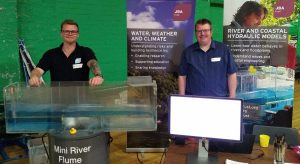 The mini flume provided pupils with a visual demonstration of how water moves in a simple river channel and how different engineered structures, for example bridges, weirs and culverts, interact with the flow and what can happen under flood conditions.
Richard Buck, Director at JBA Consulting commented "As well as budding engineers, a number of children who enjoy geography came to talk to us and we explained the route from studying geography to hydrology and hydraulic modelling – a career opportunity they were not aware of."
If the JBA Trust models would be useful for your work with students, professional groups or communities, please contact us for details.