JBA Trust were pleased to support Addingham Environment Weekend on Saturday 10th June.
Organised by Addingham Environment Group, the event was a fantastic opportunity for the local community to get together and explore the local environment.
Visitors explored flood risk and river catchment management techniques using our augmented reality sandbox.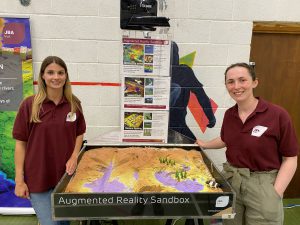 Emily Prtak and Hannah Kellett, volunteers from JBA Consulting and JBA Risk Management, commented:
"We had an enjoyable day demonstrating the JBA Trust augmented reality sandbox. We showed how water moves over the land in both managed and natural catchments, and how catchments can be adapted to slow down the flow of water and reduce flooding.
Adults and children enjoyed shaping the sand to form hills, ponds, rivers and making virtual rain to see what would happen. Visitors were really engaged with environmental issues and it was pleasing to inspire the next generation in what a career in flood risk science may involve."
Thank you for inviting us Addingham Environment Group!