Tomorrow's Water is the national water prize for the country's most talented junior scientists and engineers. The winners go on to compete against over 30 countries for the coveted Water Drop trophy and $15,000 at the Stockholm Junior Water prize.
Students from across the UK took part in the contest, each presenting an original water based project with immediate relevance to a range of global water challenges.  
Brothers Sebastian and Renatus Groothoff from Beech Grove School in Kent, emerged as the winners for their project 'Fish Out of Thin Air'.  They designed a new aquaponic system to produce a sustainable source of fish protein.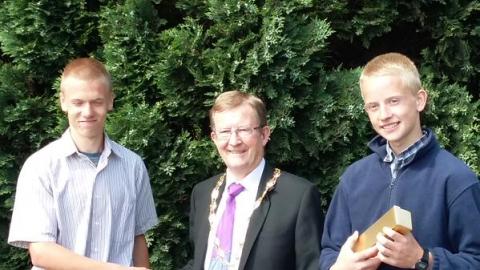 Photo: Sebastian and Renatus receiving their prize from Norman Lowe, President of CIWEM
Sebastian and Renatus proposed that such a system could relieve pressure from the fishing industry, specifically fish farming, on the ocean ecosystem. The judges felt that the project was not only well researched, written and presented, but that its outcomes have potential for real world application.  
Alex Scott, JBA Trust's Programme Manager, helped judge the competition and said:  "It was fantastic to see students coming up with innovative solutions to such a wide range of issues. The Tomorrow's Water competition is a great way to help engage students with water and environmental challenges."
The Highly Commended Award went to Samuel Burrow of Chetham's School of Music for his project 'Synthesis and use of Graphene/TiO2 composites for ambient light-driven pollution removal'. His project developed a new way of synthesising Graphene/TiO2 Nanocomposites to produce a reusable water purification powder.
Paul Hillman, CIWEM's Interim Head of Membership said:  "This is a great opportunity for young people to really get involved in the challenges faced within the Water Industry by researching, developing and creating practical and scientific solutions to water issues. The chance to represent the UK at the prestigious Stockholm Junior Water Prize competition is a great opportunity.  Involving, informing and inspiring future generations through competitions such as Tomorrows Water is at the heart of CIWEM and all that our Royal Charter stands for."
Danielle King, Tomorrow's Water coordinator at CIWEM, said:  "This year's competition has seen yet another truly talented group of students demonstrate their ability to apply their science, technology, engineering and mathematical skills to solving current water issues. Each of the eight teams that took part in the final this year showed exceptionally innovative problem solving, and ably presented their projects in a mature and articulate way."
JBA Trust and Severn Trent PLc supported CIWEM in running the competition and donations given by the Members at the CIWEM Annual Dinner helped make this national competition possible.
For more information please visit: https://www.ciwem.org/competition-and-awards/tomorrows-water.aspx