During the week beginning 12th July, pupils at Great Ouseburn Primary School in North Yorkshire enjoyed using our augmented reality sandbox to help learn about water cycle processes. Iain Willis from JBA Risk Management demonstrated the model to Year 3 and 4 pupils.
The interactive model enabled pupils to move sand to create different landscapes, to create virtual rain and to see how the water moved across different gradients of land and catchments.
Rebecca Dawson, teacher at Great Ouseburn Primary School commented:
"The sandbox really helped our geography learning. In Year 3 and 4, we have been learning all about the water cycle and the sandbox really helped to bring to life the different processes that link this together. The children found it really magical."
On Tuesday 13th July, JBA Trust delivered four 'coastal wave tank and maths' sessions for 100 Year 7 pupils at All Saints Roman Catholic Secondary School in York. These workshops formed part of the school's sustainability festival.
Each session included:
– a wave tank demonstration to show how effective different types and combinations of coastal defences are at preventing wave overtopping and flood risk
– a talk by Nikos Spanakis, Coastal Modeller at JBA Consulting, about how he uses maths in his work and why he decided to follow his chosen career path
– a wave tank maths activity, created in association with Ed Firth, Assistant Subject Leader in Maths at All Saints School
Nikos commented:
"I really enjoyed visiting the school to talk about why I enjoy using maths in my work and to help inspire pupils to become the next generation of coastal modellers."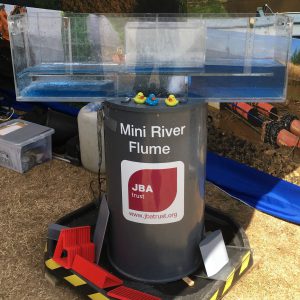 Between 13 and 16 July, visitors to the Great Yorkshire Show could see our mini flume in action on the Association of Drainage Authorities (ADA) stand. The flume was used to demonstrate the effect of engineered structures on the flow of water in rivers.
If the JBA Trust models would be useful for your work with students, professional groups or communities, please contact us for more details.