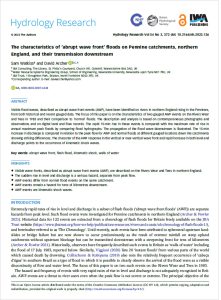 A new paper published in Hydrology Research explores the characteristics and downstream transmission of 'Abrupt wave front' floods (AWF), also know as Walls of Water (WoW) or flash floods, in northern England.
AWF floods describe an extremely rapid rate of rise in water level and discharge. They are very hazardous to river users and are caused by extreme rainfall events on steep upland catchments which can then move downstream for tens of kilometres.
You can read more about the AWF floods research and the implications for flood forecasting and warning procedures, as well as watch a video of a AWF event in Scotland here.