Set up in 2014 to celebrate the 95th anniversary of the Women's Engineering Society (WES) this international awareness day focuses attention on the amazing careers in engineering and technical roles for young women.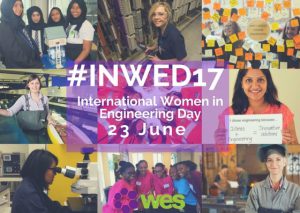 Taking place on Friday 23 June, the event allows us to celebrate the achievements of our outstanding women engineers.
Even more important when only 9% of the engineering workforce is female, and only 6% of registered engineers and technicians (i.e. CEng, IEng, and EngTech) are women.
Working together
This year the campaign will focus on the theme of 'Men as Allies'.  We are working with the JBA family to highlight the effectiveness of teams where male and female engineers work alongside each other.  Find out more about the many different roles that JBA's female engineers undertake here.
On Tuesday 20 June, Alex Scott (JBA Trust) and Rebecca Alexandre (JBA Risk Management) presented at Skipton Girls' High School, an engineering academy, about their roles in the water and environmental engineering sector and the options available for careers in engineering.
Marc Pinnell and Iain Craigen (JBA Consulting), are also attending an event at Rosebery School, Epsom, on Friday 23 June alongside the Environment Agency. They will be demonstrating our latest physical model – the augmented reality sandbox.
Early engagement is key
Marc Pinnell, JBA Consulting Managing Director, commented, "We are very pleased to be supporting International Women in Engineering Day, and specifically the events at Skipton and Rosebery girls schools. Despite their achievements in maths and science at school, young women do not seem to think that engineering is a suitable career for them. This therefore means the engineering sector faces a skills shortage. We must find ways to address this misperception and we believe early engagement is the key. By championing the rewards, challenges and fun that a career in engineering offers, we hope to encourage the brightest most talented individuals into our sector and to join the team at JBA."
Alex Scott, JBA Trust Programme Manager, said, "Engineering is a fundamental aspect of managing risks in the water environment and we think it is really important to inspire students at an early age to consider engineering as a future career."
Women's Engineering Society
With this day, WES is aiming to influence society as a whole. They're focusing positive attention on the role of engineering. In particular the part that women in engineering play and the career opportunities that exist.
Kirsten Bodley, Interim CEO of Women's Engineering Society says: "We're really pleased to have so much support for International Women in Engineering Day this year and aim to increase our reach to a wider audience with our theme of 'Men as Allies'; raising the profile of the opportunities available to women in engineering."
Want to know more?
Contact us for more information on our attendance at the above events.