400 primary age pupils from 11 schools in the Lancaster area enjoyed a flood awareness day at the University of Cumbria on 6th June. The event, jointly organised by the University and the Lune Valley Flood Forum, aimed to raise children's awareness of flooding, its impact and how to build resilience for the future.
The event consisted of six learning zones, including a flood hub where pupils learnt how flooding affects peoples lives, a systems zone to see how rivers work, a reactive zone to find out how different agencies react to flood events, a proactive zone to show what can be done to reduce flood risk & how to be better prepared and a game zone consisting of activities to help reinforce learning about flood awareness.
A huge range of organisations were involved in the event, including statutory agencies, charities and nature and wildlife bodies, for example the National Flood Forum, Met Office and Lancashire Fire and Rescue.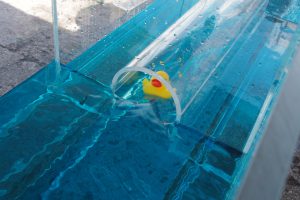 JBA Trust demonstrated the mini flume in the systems zone, alongside activities run by the Environment Agency, Lune Rivers Trust and Cumbria Wildlife Trust.  Pupils in this zone learnt about how river systems work, the mini flume helped to show the effect that different structures can have on a river environment and the potential of flooding.
Bridget Brady from JBA Trust commented, 'The pupils were really engaged with the mini flume demonstrations, many of them could relate to structures shown in the flume with real life examples in their local area. The wide range of organisations and activities on offer during the event enabled pupils to learn about why flooding occurs, how it affects communities and how we can be more prepared for future flooding events."