MSc students
MSc students
Our support gives students an insight into how methodologies and techniques are applied in industry
We help MSc and MRes students completing their dissertation projects by providing placements, technical expertise and case study data, and by facilitating access to software resources. Students have an opportunity to experience how they will be able to use their skills in a career in the water and environmental sector.  We also support the dissemination and publication of their research.
Each year we also award studentship grants to a small number of students to help towards tuition costs at UK Higher Education Institutions, for MSc and MRes courses. There are more details about the studentship award scheme here.
Poster summaries of some recent MSc projects we have supported are presented below.
Alice Dear, MSc in Sustainability and Consultancy at the University of Leeds, 2019
Delivering sustainable FCERM construction: plastic waste

Zhiqi Hu, MSc in Atmospheric Ocean & Climate at the University of Reading, 2018
Flood Inundation Mapping with Data Assimilation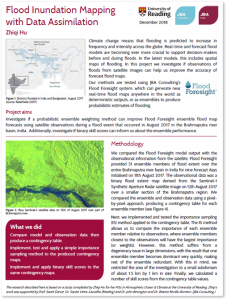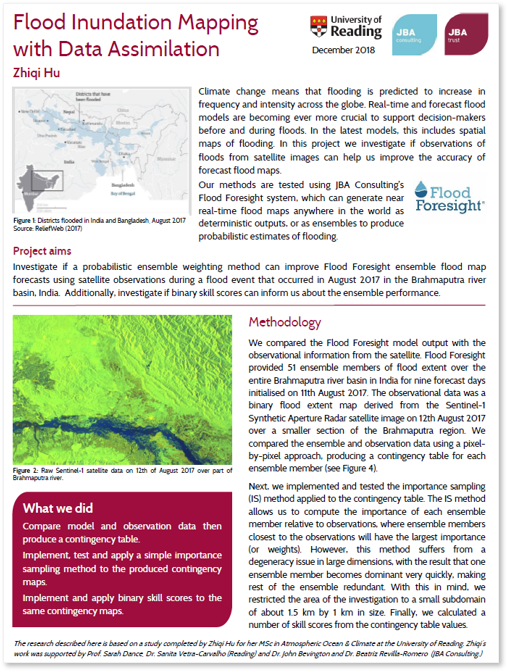 Jenny Broomby, MSc in Sustainability and Consultancy at the University of Leeds, 2017
Partnerships in Working with Natural Processes schemes in the UK: Identifying factors that impact and shape success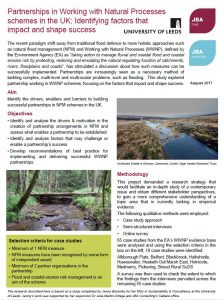 Gary Chan, MSc in Sustainability and Consultancy at the University of Leeds, 2016
Assessing the integration of ecosystem services into decision making for implementing natural flood management measures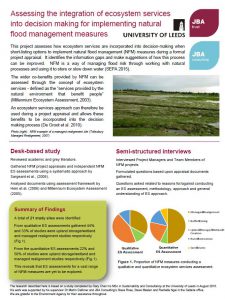 Marion Duprez, MEng in Civil Engineering at Newcastle University, 2015
Real time 2D urban flood forecasting: a case study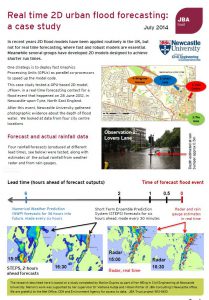 Nicole Friedrich Neumann, Sanitary and Environmental Engineering at the Federal University of Santa Catarina in Brazil, 2015
International Case Studies for Water Sensitive Urban Design (WSUD)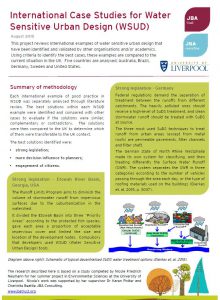 Sarah Usher, MSc in River Basin Dynamics and Management with GIS at the University of Leeds, 2014
Salmonid and macroinvertebrate responses to engineered large wooded debris structures in a low gradient UK upland stream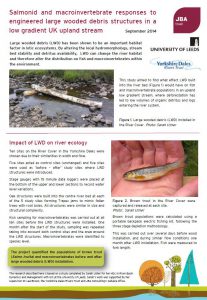 Robert Bertsch, MSc in Hydroinformatics at Newcastle University, 2014
How good are 'broad-scale' models of urban flooding?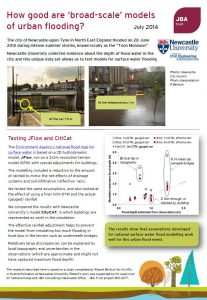 Janie Haven, MSc in Water and Environmental Management at the University of Bristol, 2013
How well do flood defence models match reality? A Comparison of Actual Fluvial Embankment Flood Defence Performance to RASP Estimated Performance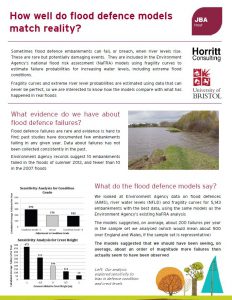 Jessica Scrimshaw, MSc in Sustainability (Environmental Consultancy and Project Management) the University of Leeds, 2014
A Feasibility Study for the Wetherby Hydropower Project