Internship and placement students
Internships and placements with JBA Trust
We provide a variety of different opportunities to work on short research projects or support our educational and outreach activities.  Students gain experience of working in the water and environmental management sector as well as gaining new skills such as data analysis and presentation, mapping and GIS, communicating flood risk concepts and project management.
Opportunities are advertised on our website and through universities and include short work experience placements of 1 to 4 weeks and longer term paid internships of 3 to 4 months.
Some examples of previous internships and placements are outlined below
Internship: Researching links between extreme weather events and climate change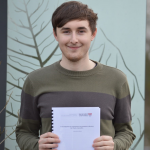 Julian Shield joined us for five weeks in September 2019, as part of his MSc in Environmental Science at Lancaster University.
"I looked at 167 published studies on extreme events around the world, ranging from heatwaves to extreme precipitation, to drought.  From my analysis of the articles, I found that 40 of the 41 heatwaves investigated between 2011 and 2017 were attributable to climate change.  Other event types are much more variable in their attribution: for example, for extreme rainfall, snow or flooding events, about half (15 of 29) were found to be attributable at least in part to climate change".
Internship: Researching and mapping schemes which reduce flood risk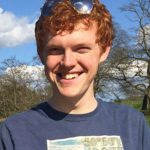 Duncan Nichols joined us for a 3-month internship as part of his MSc in Sustainable Water Management at Lancaster University
"Working JBA was fantastic and the end result is something I can be proud of.  I now have a job with a large environmental consultancy and have carried on using the skills I developed during the internship on a day to day basis."
Internship: Mapping Natural Flood Management (NFM) research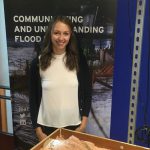 Emily joined us for a 6-week summer internship following her second year studying for a Geography degree at Lancaster University.   Her work continued the development of the online mapping that Duncan completed during his internship.
"I have gained valuable experience in researching NFM schemes in the UK and have developed and enhanced many key skills for working in the flood-risk industry."
Work placement: Supporting the development of training materials for an Augmented Reality Sandbox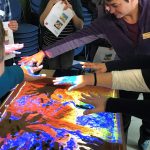 Holly Baronti joined us for a part-time work experience placement for 10 days which she balanced alongside studying for a Geography degree at the University of Leeds.
"Working on this project has not only been fun (the model is scarily addictive to play with!) but it has also been rewarding. Attending the training session allowed me to see exactly how my work to help set up, calibrate and test the instructions for the model has made a visible positive impact for all the organisations that came to the training day."
Work experience: Using physical models to communicate flood risk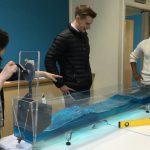 Kieran joined us for a 1-week work experience placement whilst undertaking a degree in Geography at the University of Manchester.
In just one week he managed to fit in a site visit to a river catchment that is being used for PhD research into Natural Flood Management (NFM) measures, took part in a training day, attended team meetings and discovered how the industry helps to predict and manage flooding.