What data, evidence and modelling is needed to develop a catchment strategy?
A new report shares insights on how to identify the data, evidence and modelling needs for developing natural flood management catchment strategies to reduce flood and sediment risks.
The Skell Valley project, led by the National Trust, aims to restore habitats, conserve historic features, increase community access and reduce flood risk to Fountains Abbey and Studley Royal Water Garden, a World Heritage Site that has been significantly impacted by flooding and siltation.
The approach to flood risk management aims to focus on soils, sediments, morphology and natural flood management (NFM).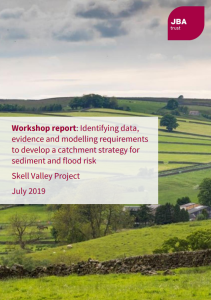 In July 2019, we worked with the National Trust to help identify the data and modelling needs, and the robustness of evidence, for developing NFM strategies in the Skell catchment to reduce flood and sediment risks.
We hope that the resulting report could be useful as a design template for similar workshops aiming to identify what data, evidence and modelling is needed to create a NFM plan.
The report is available here.
The report summarises the design and structure of the workshop which was designed to meet the following objectives:
Provide background to achieve a shared understanding of what the Skell Valley project is trying to deliver and why.
Share the latest scientific evidence base for nature-based flood and sediment/erosion risk management.
Identify what data and knowledge is needed, and what already exists, that will be relevant and available to inform catchment planning in the Skell including modelling,
data sets, previous research and locally-held knowledge.
Explore knowledge gaps and uncertainties to understand what questions need to be answered and how we might answer them.
Identify which stakeholders the project will need to engage with.
Capture agreement and commitments on actions and next steps to set the direction of the catchment plan.
A wide range of organisations attended the workshop including academia, government, the community and industry.  We also found that the input of a professional facilitator to the design and delivery of the workshop proved valuable in gathering the required information from participants within a limited time.
You can find out more about the Skell Valley project here.